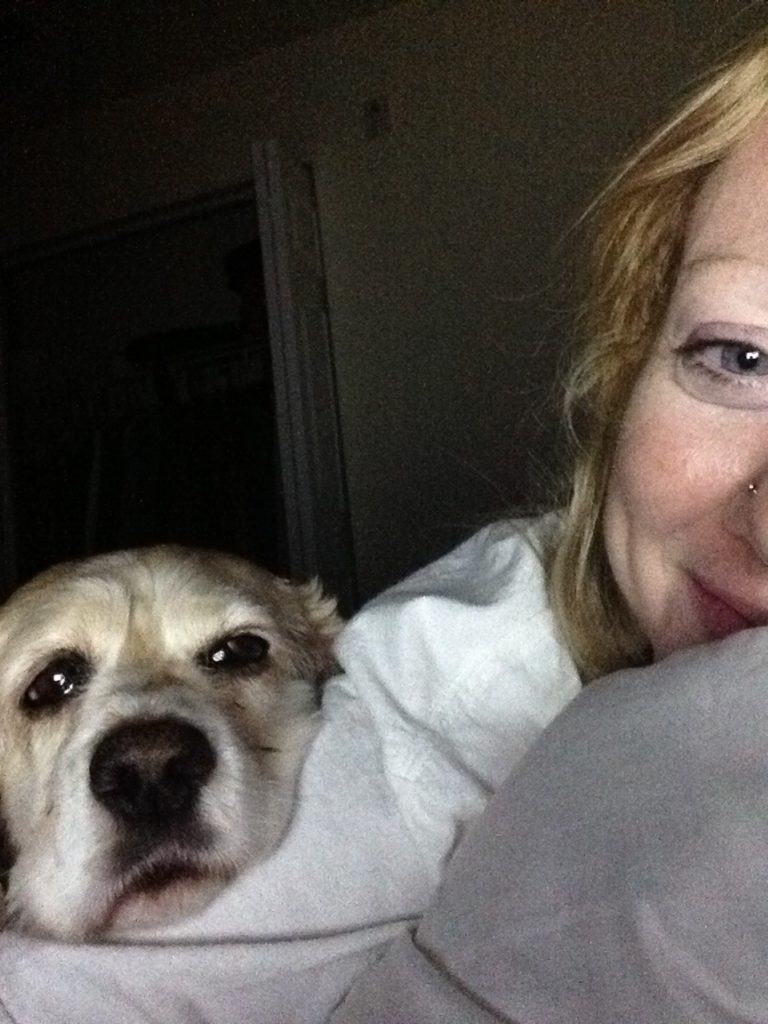 I do not know how to express my sadness right now.  But maybe writing will help me through this.  I am utterly heartbroken.
At around 4:30 this morning, I awoke to a loud BANG and the sensation of something rocking the travel trailer.  It had this instant feeling as if something was commanding me to wake up.  I shot up, full of adrenaline, and turned on the light above me.  Chloe was laying next to me in bed, her body tense and rigid, but breathing.  Like she was having a seizure.
I knew this was the inevitable moment I hoped would never come.
I rubbed my hands along her body, trying to help her come to – she was not conscious.  I desperately coaxed her, "It's okay girl, it's okay. You're gonna be okay," as the feelings of panic and desperation grew.  I didn't know what to do, I felt completely helpless.  My instinct was to find my phone and call someone – not that anyone would have been able to do anything.  Who would I even call? It was just panic I guess.  As I tore the bed apart looking for my phone, Chloe's body relaxed, and I thought maybe she was going to be okay.  But then within a few seconds, she grew rigid again, her eyes shot open, wide and dilated, her mouth opened like she was gasping or something. I don't know what that was.  Then she kicked her hind legs backwards, made a death rattle sound, and stopped breathing.
And just like that, my best friend for the past twelve and a half years was gone.
I looked at her lifeless body and began to sob. Or wail. I don't remember.  What was I supposed to do now? It was 4:38.  She died at 4:38 on September 5, 2017.
I sat on the floor in disbelief, it didn't feel real.  I knew that one day she would die, but not today, or tomorrow. She couldn't leave me.  We were supposed to be travel buddies.  She was supposed to take on the open road with me.  She couldn't leave now, we were just getting started.
But it was her time.
I found my ipad and called my mom, because that's what I do when I don't know what to do.  I'm almost 35 and I call my mom.  I still hadn't found my phone.  My mom and I talked. I pulled a sheet over Chloe.  At 6am, the alarm on my phone started going off, and I realized it was under Chloe's body.  I couldn't bear to touch her.  I didn't want my last memory of Chloe to be like that, I didn't want to feel her lifeless body.  Maybe I am weak, maybe that makes me weak.  I wish I had been strong enough to hold her, to comfort her, instead of frantically looking for a goddamn phone.
She was gone, this was just her body.  I didn't know how to process that.  I was scared of her.
I left the trailer with the alarm clock still going off on my phone, got in my truck, and drove around the campground hoping someone would be awake. Someone who could help me deal with this.  I waited around an hour and a friend I made last week, Dave, came walking up to my truck window.  He also had a dog – I knew he would understand.
Dave came to my trailer, wrapped Chloe's body up,  and put her in the back of his truck.  Together, we drove over to the local vet.  It was 8am at this point.  The vet gave his condolences and I paid to have her cremated.  I will pick up her ashes on Thursday.  I don't know what I'll do with them yet, I still can't believe I'm even writing about this. The vet took off her collar and gave it to me. Maybe I'm crazy but it still felt warm.  He wrapped a blanket around her body, and I walked over to where she laid.  I've never done this before.  I don't know how you're supposed to say goodbye.  I laid my hands on the blanket and could feel her underneath.  All I could think to say was "I love you girl," and "thank you."
Chloe had a congenital heart murmur that had gotten significantly worse in recent years.  We'd tried medication, but it didn't help.  The only possible solution would have been a pacemaker, but she was too old to put her through that, and she probably would not have survived the surgery anyways.  I knew all this.  When we got to Colorado last week, I debated over whether to take her on the 4-mile walk around Monarch lake, which we had done together so many times when I visited the area in 2009.  I decided to take her because I knew she might not have many more opportunities to do so.  She had a blast, dragging me for most of it.  I'm glad she got to have that last experience.
Last night before bed she was very, very affectionate.  She insisted on sleeping under the covers with her body right next to mine, which is unusual for her.  She was very calm and wistful all day – like she knew.
And now I am here, alone.
I moved her stuff into the back of my truck.  I am not sure what else to do right now.  I miss her.