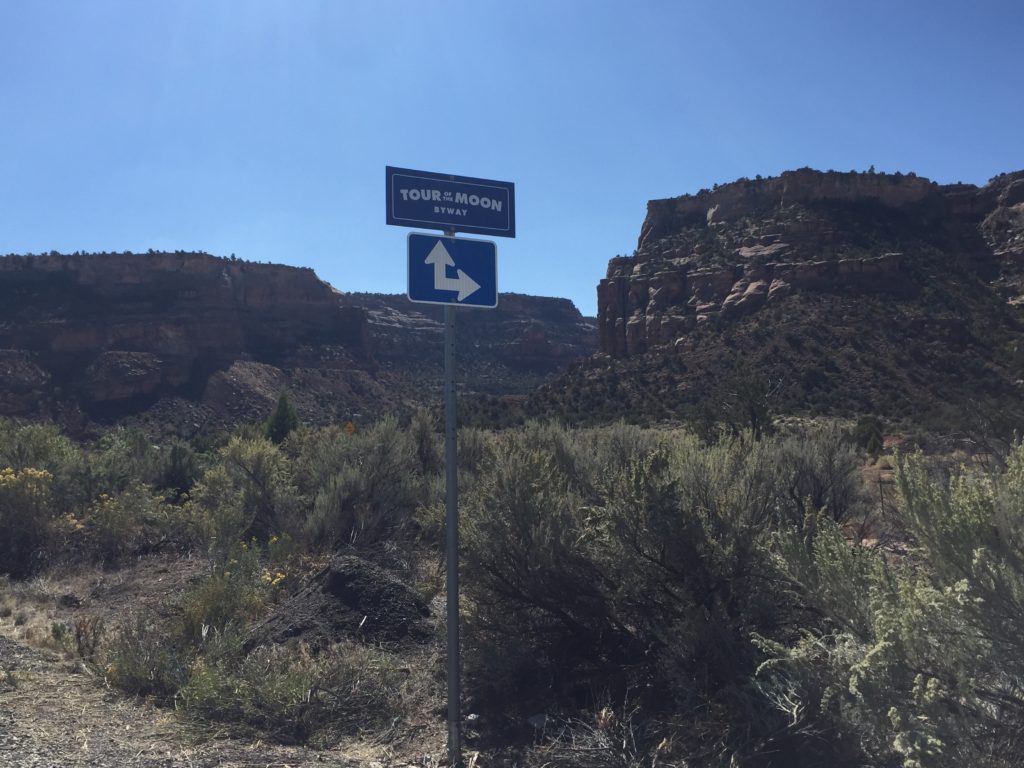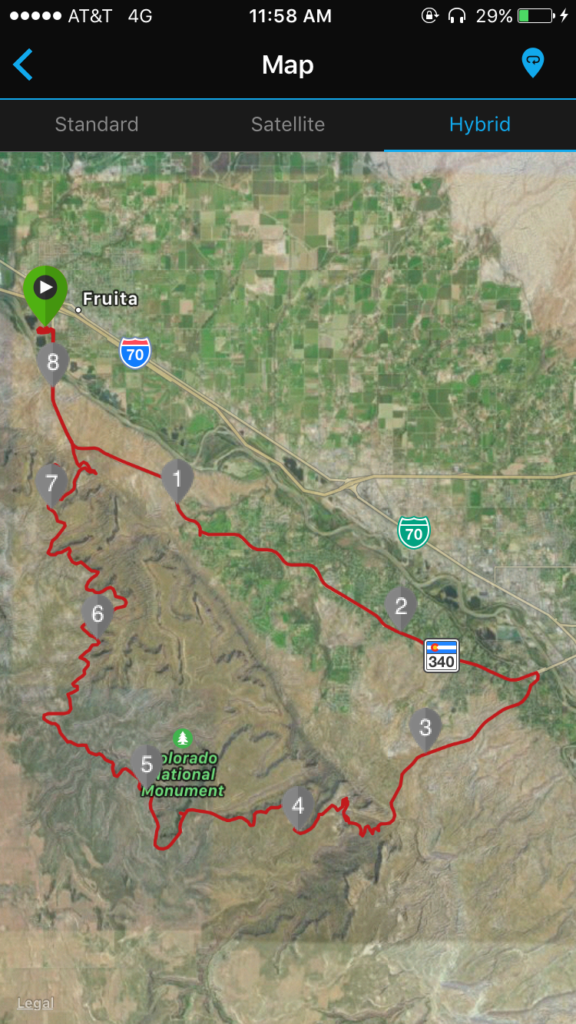 Guys.
I just can't even.
Forgive me if I gush, I'm still coming down from what was one of the most epic road bike rides I've done – ever.  Yesterday I biked the Colorado National Monument (also known as "Tour of the Moon"). It was amazing.  The total loop was 41.7 miles with 4,765 feet of elevation gain.  It took me like 4 hours, but I stopped at almost every pull off to feast on the beauty.  It was awesome.
I camped in the Fruita section of the James Robb State Park, which was really nice.  Big roomy sites, electric and water hookups, with a backdrop of the Colorado River and the Red Rocks of the monument.  The first day I was there, it rained, so I took advantage of the crappy weather and worked.  But the second day… I rode.  I was able to roll out from the campground directly onto highway 340.  I decided to go east on 340 then west through the park, so I'd have a slight tailwind during the climb (**note, I didn't end up having a tailwind).  The park requires you to have front and rear lights on your bike because there at three tunnels you have to ride through. I didn't know this… I did have lights on my bike (so they let me in the park)… but the batteries were dead.  This made me nervous because they told me there were no lights in the tunnels, and I had no idea how long they were, or how dangerous doing them without lights would be.  But… I couldn't turn back. I'd already ridden 15 miles to get to the east entrance of the park.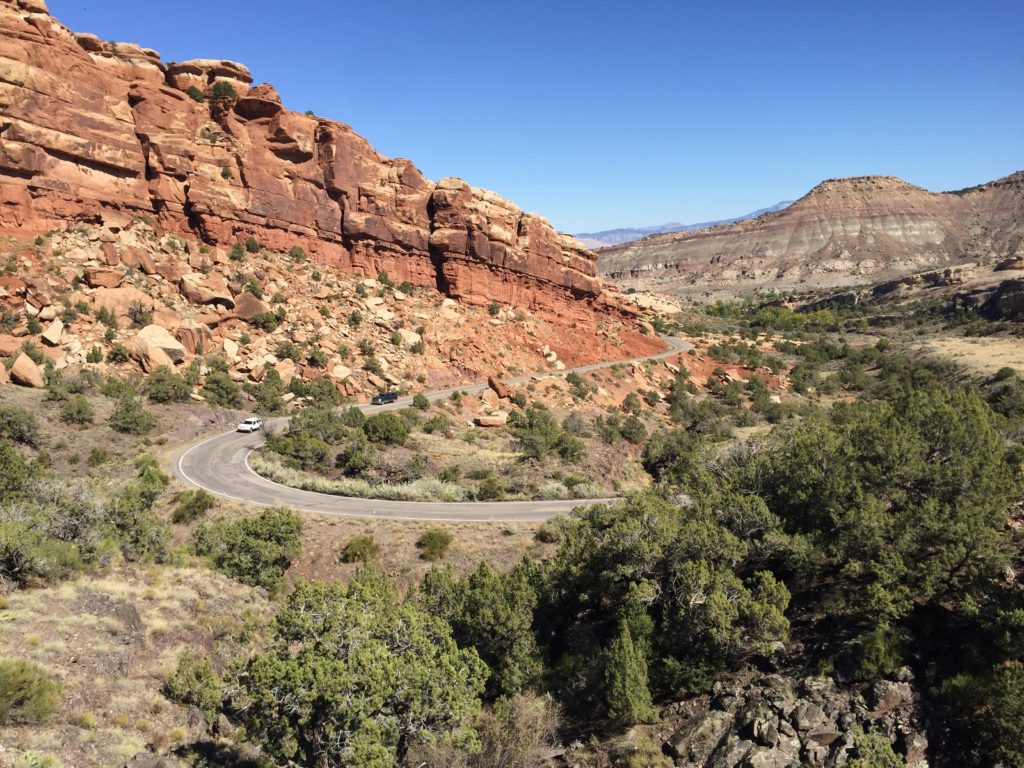 I began the climb up monument road, and it was, as climbs often are for a flatlander, humbling.  I got about 1400 vertical feet in and stopped to take a picture (–>).  I hadn't noticed there was another cyclist coming up behind me.
"Hey, do you know where that woman died?" he asked.  Quite the hello.
"Huh?" I asked.
"Yeah, some woman was riding this yesterday and fell off the side and died.  I was wondering if you knew where she fell."
Oy.
And with that, I had my ride partner for the day.  His name was Michael, he was probably in is mid-twenties, a Coloradoan, avid cyclist, and climbed like a damn billy goat.  I didn't ask him to hang back with me, but he did, and it made the ride that much more enjoyable.  Also – he had lights (that were charged), so going through the first tunnel on the way up the climb wasn't so scary (he flew down the descent much faster than I did, so I had to go through the two tunnels on the other side of the park alone on the downhill, but… I lived!).
I'll break for some pics…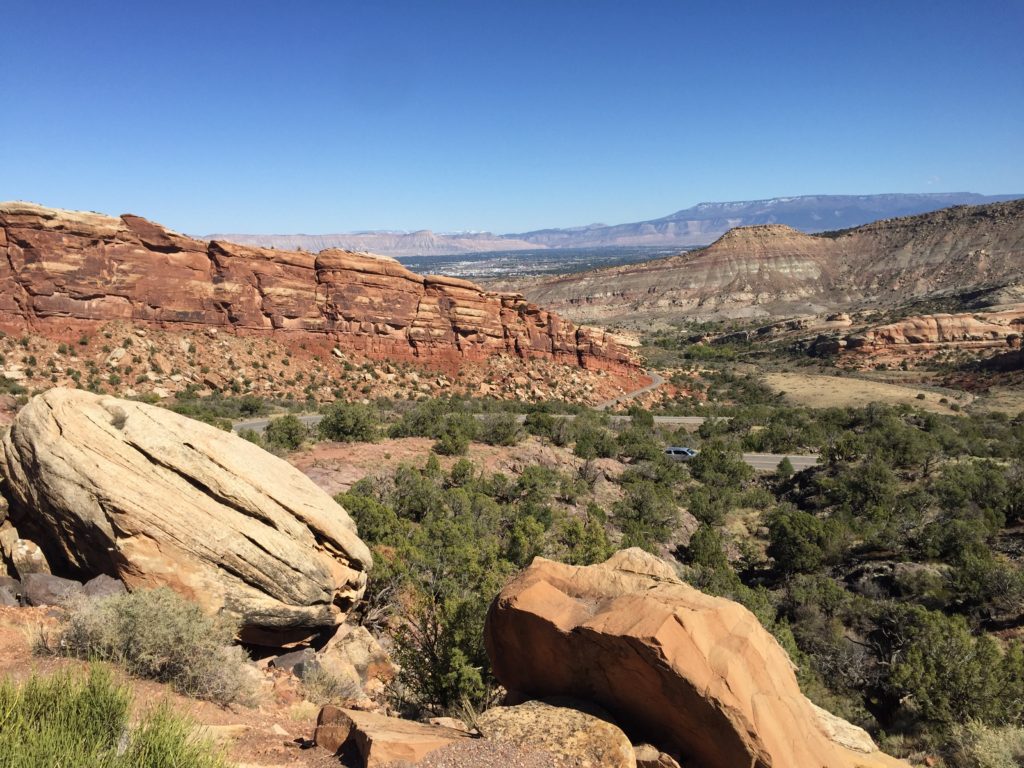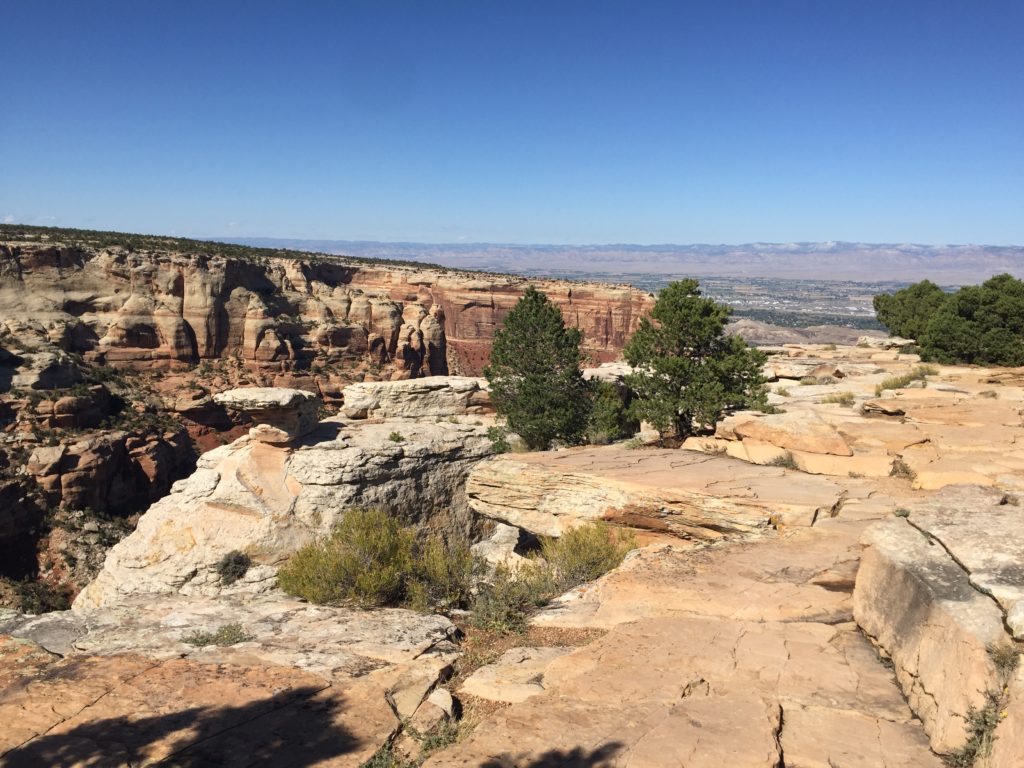 We stopped at this overlook, and you can walk right out the edge.  In fact, there aren't really guard rails anywhere on the road… just at some of the scenic overlooks.  There wasn't here, and I walked out to the very edge.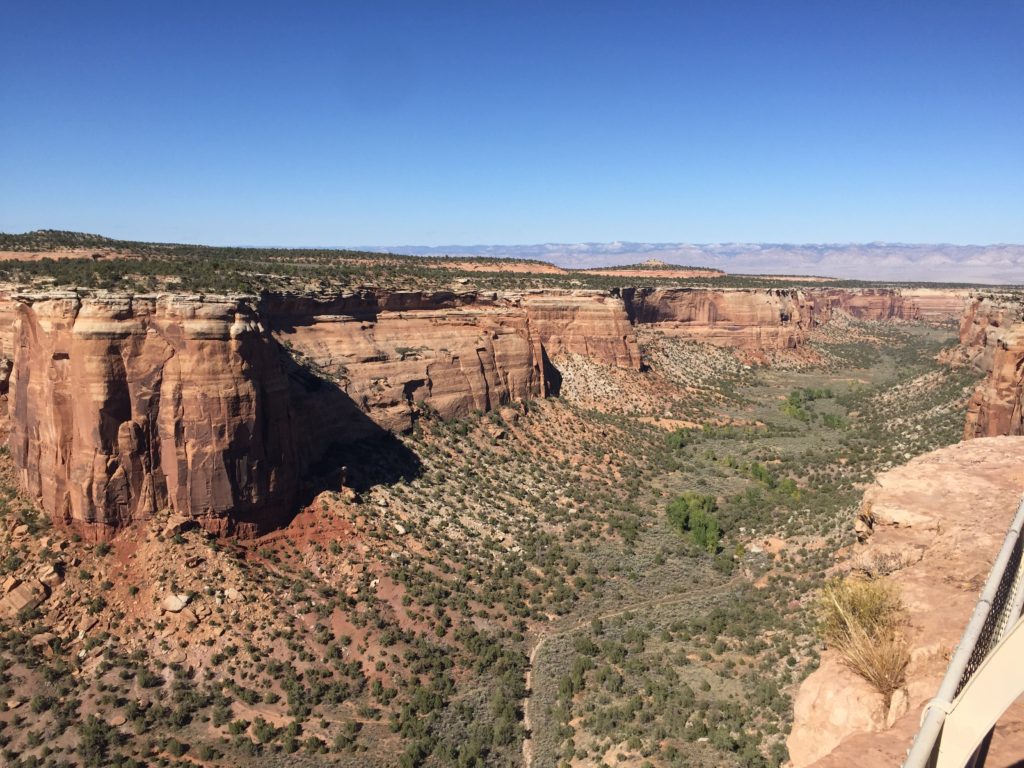 I kept finding myself going "Wowww!!!!" and "Oh my god!" and "look at that!!!!"  The whole thing was just truly awe-inspiring.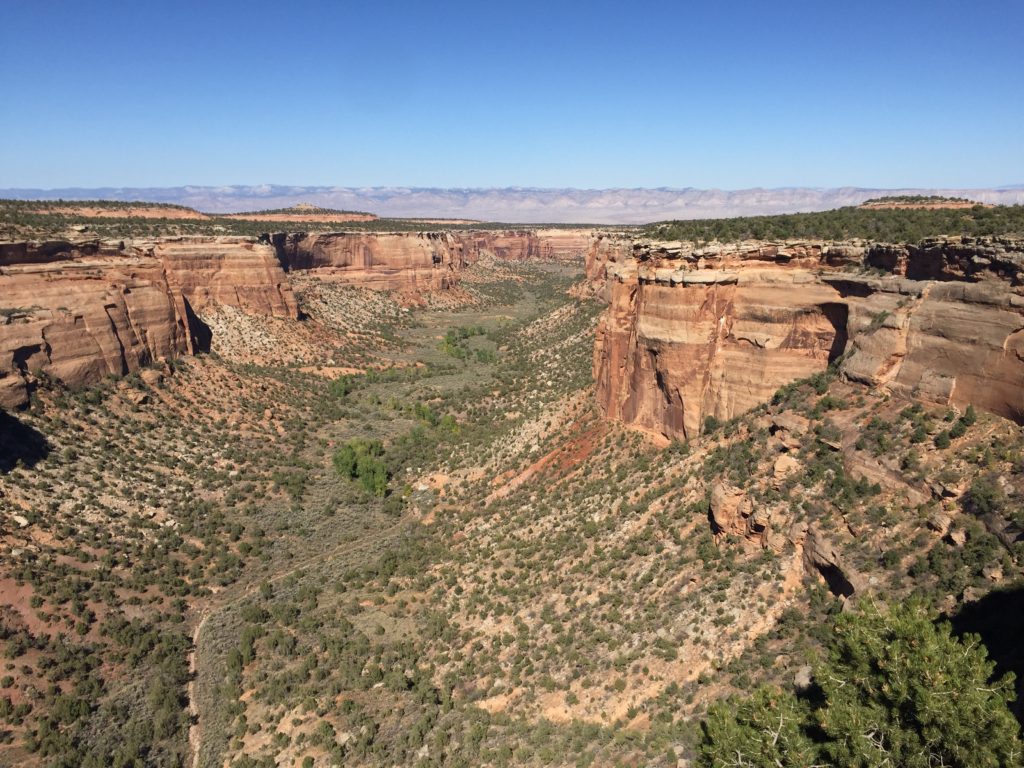 And then, as if it couldn't get any better, we came across some big horn sheep on the side of the road…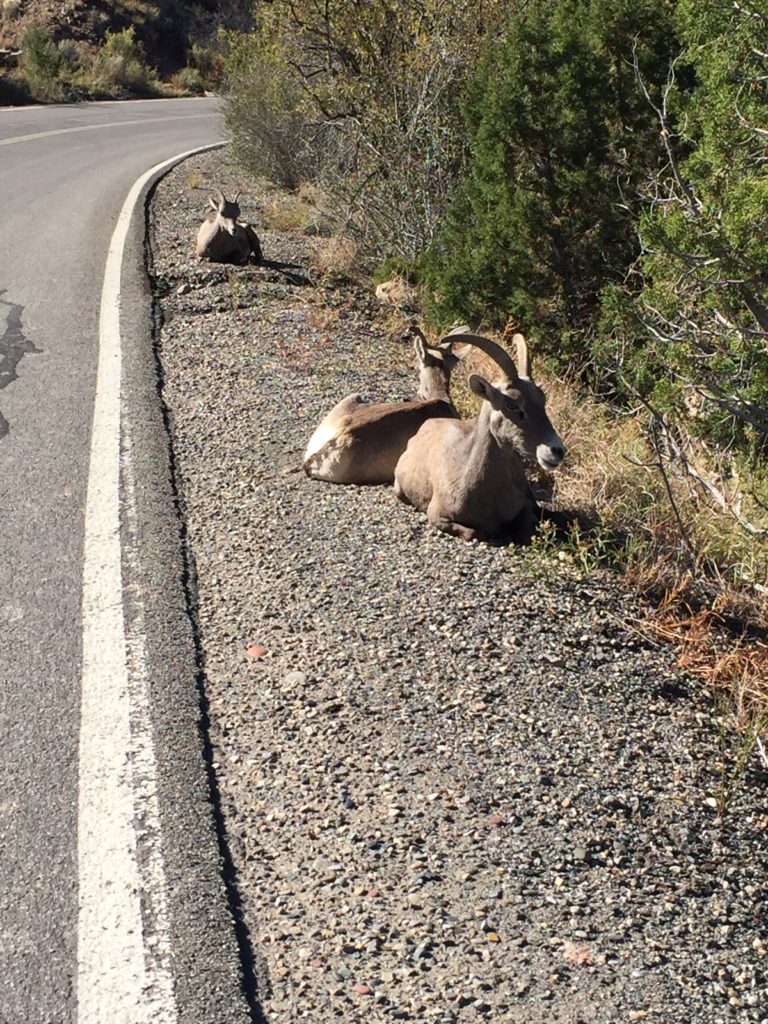 Are you FREAKING KIDDING ME?! Could this ride get any better?!!?! If you look carefully in the video, there are some rams in the bushes 🙂
And more… I think the scenery on the west side of the monument was the best.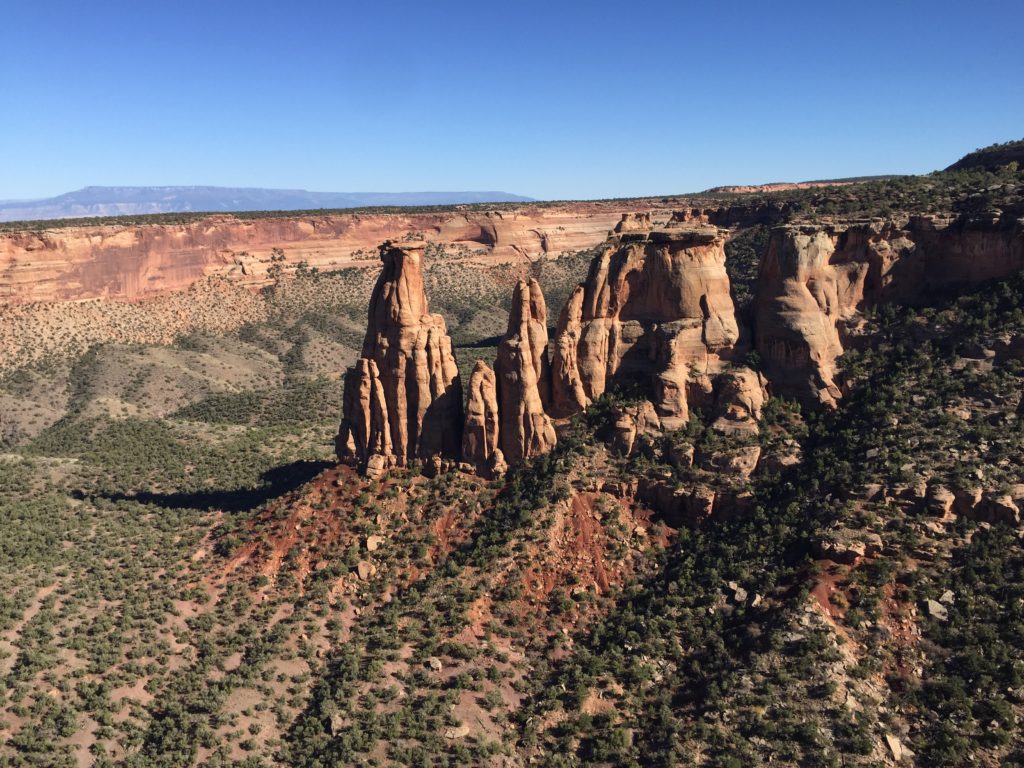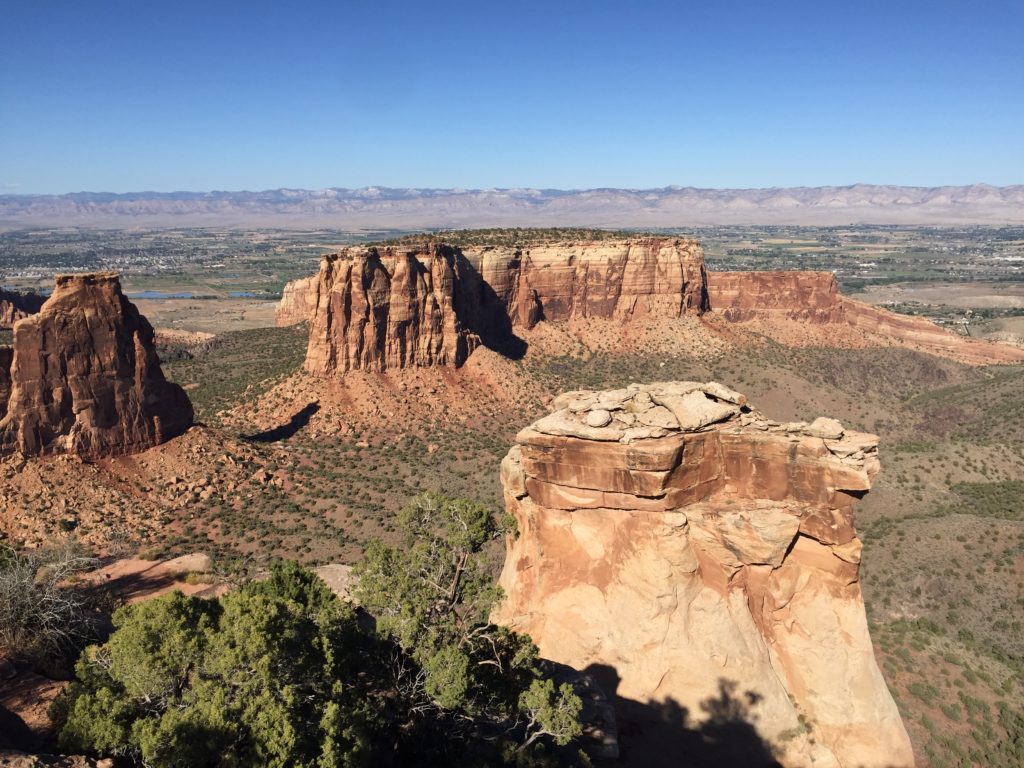 The descent was pretty wicked, for about the last 8 or 9 miles, I just flew downhill.  Michael met me at the bottom, and we said our goodbyes, and he turned around and road back through the monument, like a rock star.
I got up early today and left for Moab.  Colorado, it was wonderful. I love you, and I'll return once you get past your snow phase.  I hadn't been to Moab in a decade… when I was here last, it was this hidden mecca.  A tiny speck on the map.  There were like two hotels.
Now there are over 30.
I knew it had grown, but I hadn't quite expected this!  I drove through a few BLM campgrounds and nothing was available.  I was pretty irritated with the number of sites that were "taken" by a chair, or a pile of wood.  You can't reserve these campsites, they're first come first serve, and apparently that's how people get around it.  I thought arriving at 10am on a Wednesday, I'd be able to find a spot, but no luck.
So alas, folks, I'm at an RV park.  The bad- it's an RV park and we're packed in like sardines.  That's not really my scene.  But, it's Moab.  I'll do some epic road riding and hiking, and Sherie is coming out to join me so we'll have a blast.  If I can get a good BLM spot after this week is over (I paid to stay at the park for week), I'll stick around… but if not, I'll head south.
Here are a couple pics I snapped during the drive here (stay tuned for some crazy red rocks pics from Moab!)